As UCLA ambassadors, our Squad represents the spirit and tradition of the #1 public university in the country – performing at key community outreach, campus, alumni, media, and athletic events. The UCLA Spirit Squad is composed of 40+ student-athletes who dedicate 15-20 hours every week to practice, workouts, and game day performances – all without compensation. Due to their impacted schedules, students are often unable to secure paid work and internships to help cover tuition costs and living expenses. Scholarship donations directly impact each Squad member by providing additional financial support, so they may focus on their academic and extracurricular commitments.
Being on the UCLA Spirit Squad has been my dream for as long as I can remember. However, coming to UCLA was an academic decision first and foremost. As an aspiring law student, I knew that I would need valuable experience in different professional settings in order to improve my understanding of the field I hope to work in as well as boost my chances of success. The UCLA Spirit Squad Scholarship has allowed me to pursue professional opportunities for their pertinence to my goals, rather than their financial value. The unpaid internship experiences I have had have been invaluable, as they have allowed me to secure a position as a Legal Intern at Clarkson Law Firm and as a Business Affairs Summer Intern for Apple. I have been able to make strides that I would have previously thought impossible with the financial, emotional, and moral support of the Spirit Squad, our coaches, and our wonderful director. The Spirit Squad Scholarship gives us the opportunity to succeed not only as athletes, but as the ambitious and determined students that we are as well.

— Ranhita, CLASS OF 2022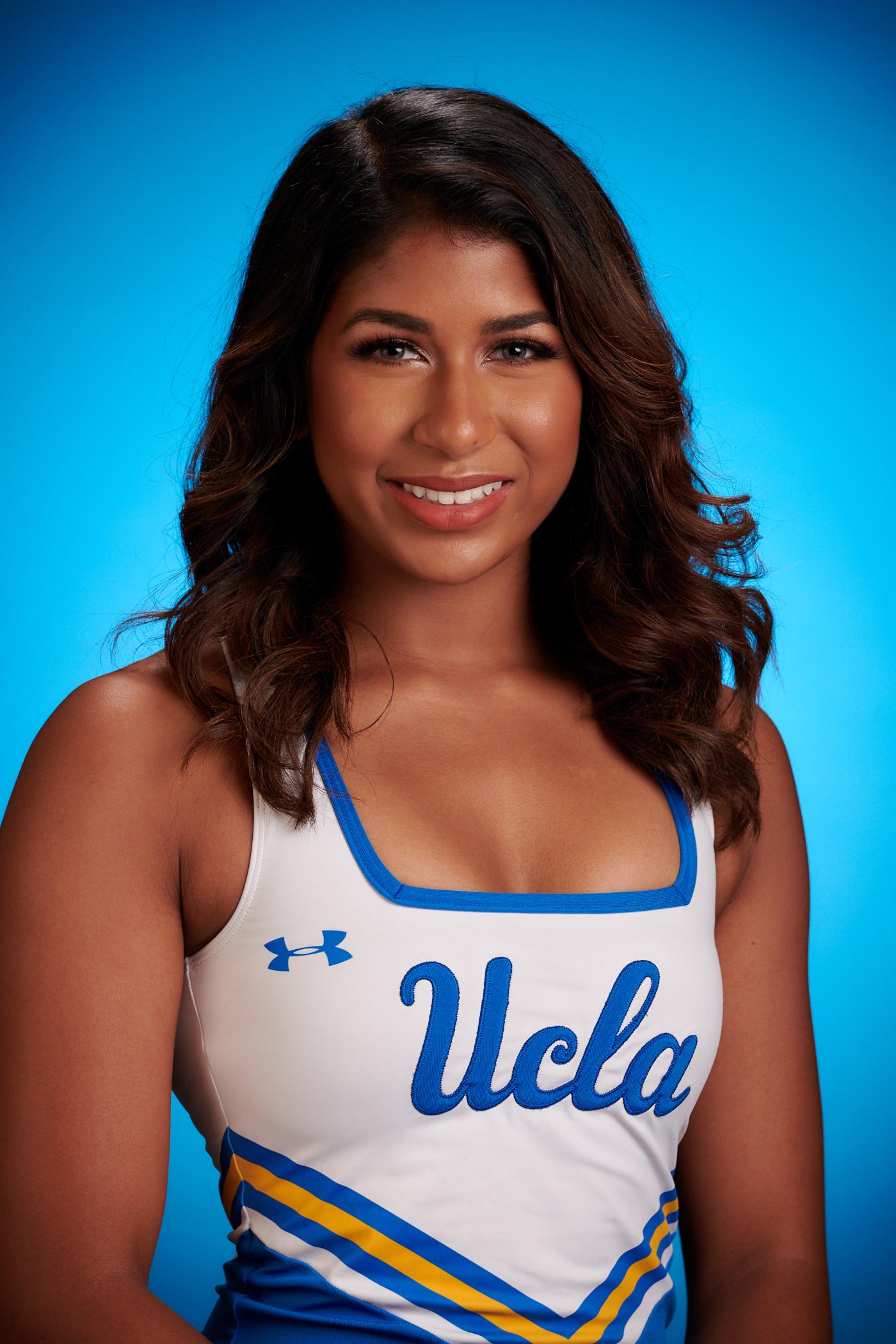 The pride of being a Bruin is the heart of our university and what brings all Bruins together. Being part of the Spirit Squad has elevated my UCLA experience by allowing me to honor our past Bruins, while investing in the best nursing education for my future. Through the scholarship program, I am able to obtain my dream of becoming a nurse while also fulfilling my passion for dance.

— Abbigail, CLASS OF 2021
I am beyond grateful for the UCLA Spirit Squad scholarship because it provides me with the financial push that I need to acquire school resources. Balancing dance team along with my coursework can become difficult and more importantly stressful at times, so this scholarship helps relieve the burden of my financial responsibilities. I want to thank all of the generous donors for recognizing the work Spirit Squad puts forth and alleviating the stress that comes with my busy schedule. I appreciate all of the support!

— Madison, CLASS OF 2021
The UCLA Spirit Squad has provided me with an unforgettable experience with the school and everyone in it. I have been able to get to know many of UCLA's alumni, creating a strong bond with the Bruins who have come before me. I have also had the privilege to be surrounded by the love and support of Bruin Pride during Game Days and Community Outreach events. Through the comradery of the Squad, I have developed lifelong friendships with my fellow teammates, coaches, and staff, truly making my college experience memorable.

— Devin, CLASS OF 2021
Many members of the UCLA Spirit Squad, including myself, are active members of the UCLA community. On top of supporting our sports teams we are avid students, club members, Greek Life members, interns, and volunteers. The generous donations from all of you allow us to pursue our dreams and passions on campus without fearing financial hardship. Thank you again for supporting the Spirit Squad in all that we do and as always Go Bruins!

— Samantha, CLASS OF 2021
As an incoming member of the UCLA Spirit Squad, I was incredibly excited for all of the experiences to come, from attending cheer camp to improve my skills with my team to performing at the Rose Bowl and Pauley Pavilion. In addition, my experience with the Spirit Squad's scholarship program immensely impacted my UCLA experience in many great ways. As an out of state student, I appreciate any assistance with tuition and other fees, and knowing that all of the Spirit Squad scholarship money comes from donors who care about the success of every individual squad member made me even more appreciative. Thank you to all of our generous donors, and as always, go Bruins!

— Kristen, CLASS OF 2022
Frequently Asked Questions
Where on campus is the Spirit Squad located?
The Spirit Squad is part of our Campus Life program (a division of Student Affairs). We rely on funding from Campus Life, as well as private support in order to provide scholarships for our student-athletes. The Spirit Squad is not housed in the Athletic department.
Does the Spirit Squad recruit members to attend UCLA?
Spirit Squad members are accepted into UCLA on their own academic merit and are not recruited. The Spirit Squad has no connection to the Admissions process. Our team encompasses a variety of majors including psychobiology, political science, nursing, biochemistry, business economics, public affairs and more. Our Squad includes students from all walks of life, including those who are the first in their family to attend college, transfer students, and military-connected students.
Are members of the Spirit Squad paid?
Members of the Squad are not paid; they volunteer 15-20 hours per week to fulfill their commitment. They also perform at games and events all throughout the year, not just during one particular sport's season. The Spirit Squad's season is year round!
Scholarship Endowments
Charles and Toni Horn
John and Mary Manuck
William Rehrig '93
Bob '57, M.S. '63 and Dorothy Webb
You can also donate to the Fund below to help pay for new uniforms, Mascot suit repairs, summer housing, and other Squad supplies.
To learn more about how you can support the Spirit Squad, please contact Willie West, Director of Development, Student Affairs.
(310) 983-3062